Garry's insurance story
Garry Adams explains why insurance is important to him and why he turned to Living Super.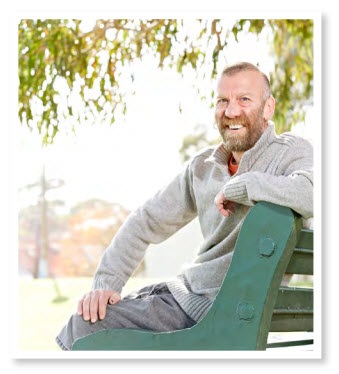 Q: Why is it important to you to have insurance?
Garry: "Insurance is important to me because it gives me peace of mind for the cost of the insurance premiums. As main income earner for my partner, my family can be confident that if the unforeseen happens, ill health - or worse, my death - the family unit's income is still assured and we're financially protected.
Many people think they don't need insurance or that it is too expensive - but if I didn't have it then I would worry about what would happen if the unexpected hits, and then it is too late."
Q: What are the benefits to including insurance as part of your Living Super account?
Garry: "It's great - Living Super offers income protection, total and permanent disability and death cover.
Everything is in one package. Insurance premiums are conveniently paid out of my super account, automatically, every month."
Q: What tools did you use to help you?
Garry: "I used the online insurance planner to calculate how much insurance cover I might need and then considered my personal objectives, financial situation and needs in deciding how much cover to apply for. Anyone uncomfortable with going online can apply over the telephone."
Q: How did you find the process of applying for insurance?
Garry: "That was straightforward. I liked what I saw when I went into ING's website so I applied to transfer the insurance I had with other super providers to Living Super online. If people prefer, they can apply over the telephone. Either way, it is an easy process."
Q: What benefits has insurance given you?
Garry: "In the end it all comes back to peace of mind and knowing that my family and I are protected financially should life take an unwelcome turn."
Q: What Insurance cover do you have?
Garry: "I have Death and Total and Permanent Disability cover with fixed premiums."
Q: Are you happy with the cost of the insurance premiums?
Garry: "Yes, I am quite chuffed with the cost."
Q: Have you compared the premium costs with the fund that you were with previously?
Garry: "Looking at my account online I have compared my current premiums with what I was previously paying and I can tell you that I have the biggest smile on my face."