Your options
We're here to help find a way to relieve the pressure.
If your difficulties are temporary
Options to consider before applying for Financial Support
You may wish to consider some of the below options before requesting financial support:
Accessing any available redraw
Accessing funds available in your Orange Everyday offset account (if you have an Orange Advantage Home Loan)
Reducing your repayments to the minimum fortnightly or monthly repayment amount
Switching to another product with a lower interest rate
If you'd like to discuss your options we're here to support you and our Lending Specialists are available to chat on 133 464 available 8am - 8pm, 7 days a week.
Options available when you apply for Financial Support
If you're experiencing financial difficulty, we can discuss your options that may be available to you and we may be able to reduce or press pause on your repayments.
Contact our Financial Support Team on 1300 349 166, Monday to Friday 8.45am to 5.00pm, depending on your circumstances to discuss your situation. Depending on your circumstances, options may include:
Capitalisation of arrears, where money owed on your home loan is added to the balance and paid off over the life of the loan
Extending the term of your loan to reduce your repayments
Agreeing to interest only payments for a short period
Temporarily postponing or reducing your repayments
Changing your home loan type.
Some of these options may mean that you pay more interest over the life of your loan.
If you're not comfortable speaking to us about this, we can speak to your financial counsellor or authorised representative instead. You'll just need to give us their contact details in writing and your authority that they can speak with us on your behalf.
We will tell you about the financial difficulty provisions of the National Credit Code if they apply to you.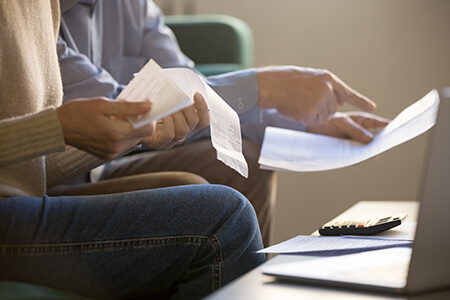 If your difficulties are permanent
If it's unlikely that your financial position can be recovered – even if your existing loan changed – then we may not be able change your payment arrangements. This is in line with the National Credit Code's financial support process.
However, even in these circumstances, we may be able to offer you help. For example, we could:
Agree on an alternative arrangement, plan or contract
Change the terms of your loan
Give you time to sell your property
Give you information about bankruptcy or insolvency arrangements
Contact our Financial Support Team on 1300 349 166, Monday to Friday 8.45am to 5.00pm, and we will help you work out what you need to do.
In addition to contacting us, you may also wish to seek independent financial advice. Our Useful Resources provides you with a list of available options. These services are free and available to both individual and small business customers facing long term financial difficulty managing their debts.