Work out what goes where
Budgeting doesn't have to be complicated. Plan, set up and schedule your payments to help reach your savings goals faster.

Plan your budget
Use this calculator to work out where your money goes each month and see how much you could put towards your savings goals.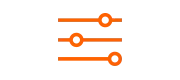 Set up your accounts
See how several Orange Everyday accounts, Savings Maximiser accounts and some automatic payments could change the way you spend and save.

Schedule payments
To help manage your money, you could automate all those recurring payments in your life that you don't want to miss – like rent or credit card repayments.