Managing my loan
A convenient way to manage your home loan is using online and phone banking. Where applicable you can:
Check your balance
Make additional payments
Redraw funds
What details do I need for online and phone banking?
To use online or phone banking, you'll need a client number and access code.
Client number: This number is unique to you and you will need this number and your access code whenever you bank online or over the phone.
Access code: Your access code is like your personal pin. If you have not already selected your Access Code just call 133 464 to select one.
You'll receive your client Number in your welcome pack, along with all your home loan account details. If you ever misplace your client Number or forget your Access Code, just call one of our Customer Care Specialists on 133 464.
Note: Loans which are "all to operate" or where the borrower is a company are not eligible for online and phone banking.
What can I do online, with phone banking or using the mobile app?
The table below gives you a snap shot view of some of the functions available to manage your home loan using our interactive services.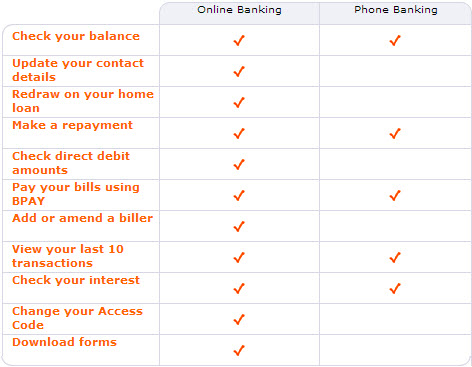 All features are not available for every type of home loan
Making changes to my existing home loan
There are a number of forms you can download to make changes to your home loan.
If you need to update your personal details, you can simply log into online banking or complete the Change of Personal Details Form
To vary your existing home loan with us, for example apply for an increase, change borrowers or change the security property, you'll need to complete a Residential Loan Variation Form
Or if you are thinking about switching to another product, simply complete the Product Switch form
What other forms are available for me to make changes to my existing home loan?
Our Brochures and forms section provides you with a full list of forms we have available as well as some great handy hints to help you get started!
Tips to save on my home loan
It's easier than you think. Here are just a few suggestions. Even if you only do a couple of things, you'll be surprised how the savings add up over time.
Save on interest payments
Like to save big time on interest payments? Silly question. Why not consolidate your credit cards, car loans or personal into your home loan. The interest rate is much less so you can save thousands of dollars.
Consolidate fortnightly over monthly repayments
Repaying your loan fortnightly rather than monthly may help you pay it off sooner.
Pay more than the minimum repayment
Paying more than the minimum repayment can help shorten the loan term saving you interest repayments.
Example: If you brought food to work rather than buying takeaway and added an additional $10 into your mortgage a day, that works out to $140 a fortnight extra on your home loan. Working it out on the repayment calculator shows that $140 a fortnight, on a $450,000 home loan at an interest rate of 8.74%p.a. could save you $257,738.37 over 30 years and reduce your mortgage by 7 years and 11 months*!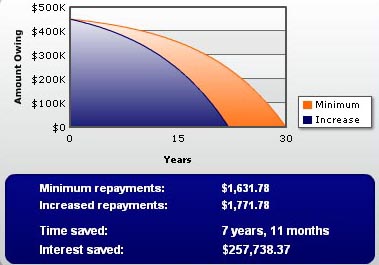 * Per year is defined as from anniversary date of settlement to the day before the following anniversary date. If you select a fixed rate loan, break costs may be payable if, at any time before the fixed rate expires, you (1) pay out your loan, make an additional payment of $10,000 or more, or you make additional payments totalling $10,000 or more in any one-year period (with the first one-year period starting on the first day of the fixed interest period), or (2) you ask us to make certain changes to your loan including but not limited to your loan type, your repayment type, your loan purpose, your fixed interest period, the security on your property, your approved loan amount, your loan term, the borrowers on your loan or any other change that requires your loan to be re-documented. You should refer to the Home Loan terms and conditions for details and contact us on 133 464 for an estimate of the break costs that may be payable by you in the above circumstances. Any additional payments or advanced funds are not available for redraw during the fixed interest period. There is no offset facility available on a fixed rate loan. The offset facility is only available on the Orange Advantage home loan account when linked to an Orange Everyday account. The results are an approximate guide only and should not be used as exact values for financial planning purposes. Fees and charges apply. Details of these and the terms and conditions are available on request. Comparison rate based on $150,000 loan amount over 25 year term.
Home loan comparison rate schedule
Deposit your salary into your home loan
Put your salary into your home loan and use our free redraw facility to withdraw funds when you need it. If you don't redraw, you're helping to pay off your loan sooner.
Add additional repayments when possible
Use work bonus payments or inheritance to help you get a few steps ahead. If you didn't plan on the money, you won't miss it.
When you come off a fixed rate, you'll automatically roll into a Mortgage Simplifier with a variable rate. If you want to continue with another fixed rate loan, make sure you organise it before it expires - you'll save the fee of $250.